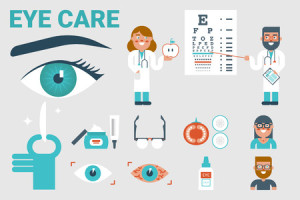 How your health will fare with better eye care
Stop for a moment. Take a second to ask yourself a question: Do I practice good eye care?
That might sound a little silly. People rarely focus on how well they nurture their eyes. Other parts of the body are generally far more important. Eye care? It's taken for granted. The fact is, your eyes are two of the most important organs in your body. To borrow a line from Janet Jackson: What have you done for them lately? Eye care is important.
Here's how to evaluate the true value of your eyes.
Why proper eye care is so important
Maintaining your eyesight throughout your life is one of the most important things you can do. Seeing the beauty of the world around you, in all of its rich colors and textures, is a vital aspect of human existence.
And yet, no matter what we do, one in six adults will be affected by an eyesight-threatening issue by age 45 or older. As we age, the risk only increases. Among the leading causes of blindness in the U.S. are:
Low vision
Macular degeneration
Diabetes
Cataracts
Glaucoma
The plain and simple truth is that all of these conditions can be mitigated with proper eye care. But how can you ensure your ocular instruments of vision stay in tip-top shape, even as they get on in years? Let's dig a little deeper.
Assessing Risk
Does your family have a history of eye disease? Be aware of it, and ask people in your family if they or other relatives have ever needed anything beyond normal eye care for any reason.
Look at it this way: You wouldn't ignore a family history of heart attacks or a particular kind of cancer. Once you find out, you go to the doctor, get checkups and do what you can to stay in good health.
The same goes for your eyes. Family history can reveal numerous important details that help you remain proactive. Examine yours.
Regular Checkups and Warning Signs
Yeah, yeah, we get it, you don't like going to the [insert type of physician here]. But getting regular checkups for your eyes is essential to keep them in as good a shape as possible as you age.
If you engage in activities such as looking at a computer all day, proper eye care might include a special set of glasses designed to reduce the harsh glare from a screen. You wouldn't know this if you didn't pay a visit to an eye doctor and have an exam.
Continuing to work with bad eyesight only makes it worse. The strain you put on your eyes as they struggle to make out what you're looking at simply compounds the problem.
Most of all, make sure you don't ignore warning signs. You don't want to get a checkup? Sure, we get it. But if you are starting to see double, have hazy vision or have difficulty seeing objects–whether moving or stationary–it's time to visit the eye doctor. Even more troubling signs could include dark redness, a constant visual strobe effect, eye pain and more.
The Final Word
What's the key takeaway here? Although some factors, like family history, can't be avoided, with proper care you can ensure you keep your eyes healthy for years to come.
Finally, make sure you take the time to visit an eye doctor to have checkups at least once a year. If you are experiencing symptoms, definitely stop in.
For an eye doctor who takes eye care in Orem Utah seriously, you need look no further than the Cataract & LASIK Center of Utah. Call us today at 801-224-6767 to find out how we can help you take precious care of your oh-so-important ocular organs.