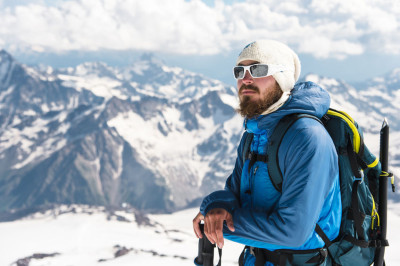 Why every eye doctor wants you to wear sunglasses in the winter
Have you been layering up during the winter months? There are plenty of winter accessories including gloves, scarves, and coats designed to keep you protected from the elements. But one very important accessory you may have forgotten is sunglasses. Sunglasses are extremely important all year long, especially in the winter, and every good eye doctor wants you to know this!
The sun's angle may put you at a higher risk
Although the winter season may be cooler, that doesn't mean it's time to put away the shades. The cooler weather doesn't mean the sun has vanished. In fact, the sun is still out, shining its UV rays. And, while they may not seem as intense, they actually could be a larger cause for concern. During this time of year the sun actually sits at a lower point in the sky and not at the same angle as in summer. This particular angle can put you at a higher risk, which is just one of the reasons eye doctors recommend you put on sunglasses in the cooler months as well.
The snow can be dangerous to your eyes
Did you know snow isn't white? It's actually translucent, but appears white because it reflects light. Eye doctors want you to know that the reflective nature of snow can create a mirror effect. This means light can reflect off of the snow into your eyes.
In fact, people who are out for longer periods, snowboarders and skiers for example, may actually develop snow blindness if they don't wear sunglasses. Snow blindness is when the cornea basically gets a sunburn, and it can last up to a week. Symptoms may include hazy vision, bloodshot eyes, pain, excessive tearing, and a feeling like something is in your eye.
Eye doctors want to protect you from eye diseases and fatigue
UV rays from the sun can contribute to age-related eye diseases such as macular degeneration and cataracts. Wearing eye glasses that protect against 100% of the sun's rays can help protect your eyes. Sunglasses also help to protect your eyes from other annoying problems as well. When it's too bright out, you may find yourself squinting which can cause eye strain, headache, and fatigue.
Sunglasses can protect you from dry eye and debris
While it's well known that the winter weather can cause dry skin and cracked lips, eye doctors want you to know that it can also cause dry eyes. Plus, not wearing sunglasses can put you at a higher risk of getting debris in your eyes. Winds can blow debris into unprotected eyes, and the windy, cold conditions can make the liquid in your eyes evaporate at a faster rate. Your eyes can be left feeling dry and irritated.
Not all sunglasses are the same
There are several reasons you should be donning the shades all year along, including the winter time. But, that doesn't mean you should just pick up any cheap pair of sunglasses. Eye doctors can recommend particular shades that are better at protecting your eyes. If shopping on your own, choose glasses that have 100% protection against UVA and UVB rays. Also, if you want to cut down on glare, choose polarized glasses. You may also want to consider glasses that have hydrophobic coatings. These help to keep away water, oils, dust, and fingerprints, which can keep the lenses clear and your vision unobstructed.
Your eyes can be safe this winter (and all year long) when you choose and wear a quality pair of sunglasses. Keep your eyes protected from the elements and keep your eye doctor happy. If you'd like to learn more about how to keep your eyes healthy or would like to schedule an appointment with an eye doctor in Draper Utah, contact the Cataract and LASIK Center of Utah.